ASIEMUT has been entirely filmed, directed and produced by the two directors, MÚlanie Carrier and Olivier Higgins. Also, each image was taken by one of them. "It was simple; we would go set the camera down where we wanted to shot and came back to get on our bicycles, and then went back on our steps".
Video material
We shoot the whole documentary film with a semi-professional camera, mini-dv Sony pdx10, 16:9 format. We had with us seventy mini-dv tapes and two 360 minute lithium batteries. We also had one charger, a stool and a laptop. We did not have solar panels.
Camera mount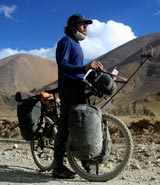 We had a camera mount that permitted us to film and to speak to the camera as we biked. We created it ourselves in the north of China with a bit of steel and recycled screws and with the help of two amazing Chinese welders. It was attached to the front of our luggage support and was also attached it to our handlebars. It was a homemade camera mount, quite heavy, but worked very well. It offered a good stability and an impressive image quality.
To fool one's eye!
It's close to 5pm. Short of breath, with frozen fingers, I see Olivier running down from the top of a hill. We are at 5200 meters in altitude; we must find a place to set our tent up before night falls, however, the light is perfect; this moment is too perfect to give up.
To film an adventure is a great expedition in itself. Whether you are famished, whether your water bottles are empty, whether it's storming or the blazing heat is giving you illusions, these are always the things you must often give up to make your film what you dreamt it would be.
The scenario was similar for taking photos. We would take out our tripod, set the camera up, run back to our bikes and hope to have a good picture. With as many as 4 or 5 takes, it takes times and energy. Of course, your best smiles, your most magical moments are never planned or even your most tragic ones but they will be forever in your memory, even though they are impossible to document, they will give you the experience and the strength to continue and to always learn more.
Nevertheless, I will never see adventure films as I used to, ones where the expedition is the actual exploit, because behind the images is an immense effort, one that goes beyond what one could ever imagine.